Austin Robert Butler (born August 17, 1991) is an American actor, singer, and model, best known for his role as James Garrett on the Nickelodeon show, Zoey 101, as Jake Pearson in the 2009 film Aliens in the Attic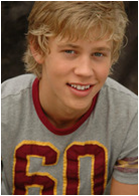 and as Jordan Gallagher in Ruby & The Rockits

Austin Butler was born in Anaheim, California to Lori and David Butler. He has an older sister, Ashley, who has done background acting with him in Ned's Declassified School Survival Guide.
When Butler was thirteen, he was approached by a representative from a background-acting management company at the Orange County Fair, who helped him get started in the entertainment industry. He found that he really enjoyed it, and began taking a few acting classes.
Ad blocker interference detected!
Wikia is a free-to-use site that makes money from advertising. We have a modified experience for viewers using ad blockers

Wikia is not accessible if you've made further modifications. Remove the custom ad blocker rule(s) and the page will load as expected.